In this tutorial we extend the Map App code sample to display a localized map based on vector tiles from PTV Developer.
Showing a localized map in a browser
All supported languages are listed in the Languages concept. Localized labels are available for countries, states, cities, roads, buildings and backgrounds. This example will show how to display multi names by displaying two lines with the localized label and the original label below.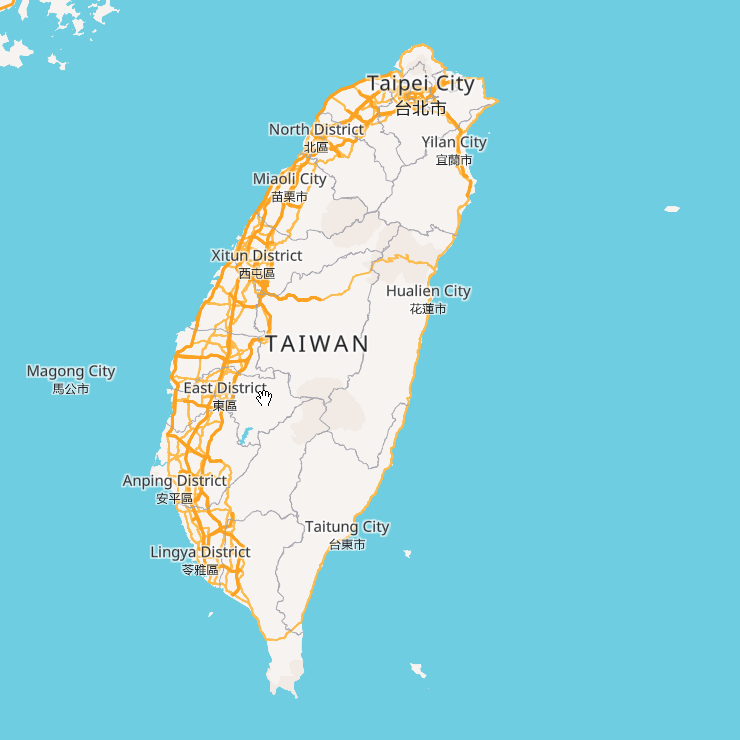 HTML code
As an example we provide a simple index.html file where we instantiate the MapLibre renderer and set the displayed language. Use MARC country codes in lower case to display the desired language:
<!DOCTYPE html>
<html>
<head>
   <meta charset='utf-8' />
   <title>MapLibre GL JS Examples</title>
   <meta name='viewport' content='initial-scale=1,maximum-scale=1,user-scalable=no' />
   <script type="text/javascript" src="https://unpkg.com/maplibre-gl@2.1.9/dist/maplibre-gl.js"></script>
   <link rel="stylesheet" type="text/css" href="https://unpkg.com/maplibre-gl@2.1.9/dist/maplibre-gl.css">
   <style>
       body { margin:0; padding:0; }
       #map { position:absolute; top:0; bottom:0; width:100%; }
   </style>
</head>
<body>
<div id='map'></div>
<script>
     maplibregl.setRTLTextPlugin(
   'https://api.mapbox.com/mapbox-gl-js/plugins/mapbox-gl-rtl-text/v0.2.3/mapbox-gl-rtl-text.js',
   null,
   true // Lazy load the plugin
   );
   var apiKey = 'YOUR_API_KEY';
   var map = new maplibregl.Map({
       // You need a customAttribution if you do not use map styles provided by PTV or if you have to add additional copyright attribution.
       // attributionControl: true,
       // customAttribution: '©2023, PTV Group, HERE',
       container: 'map',
       zoom: 11,
       pitch: 0,
       minZoom: 2,
       center: [8.4055677, 49.0070036],
       antialias: true,
       hash: true,
       // you can also use your own style "https://<your_servername>/style.json"
       style: "https://vectormaps-resources.myptv.com/styles/latest/standard.json",
       transformRequest: (url, resourceType) => {
           if (resourceType === 'Tile' && url.startsWith('https://api.myptv.com')) {
               return {
                   url: url + '?apiKey=' + apiKey
               }
           }
       }
   });
   map.addControl(new maplibregl.NavigationControl());
    var showMultiNames = true;
   //use the desired language code based on MARC country codes in lower case.
   //a list of supported languages can be found here: https://developer.myptv.com/Documentation/Vector%20Maps%20API/Concepts/Languages.htm
   var language = "eng";
   map.on('styledata', function() {
       alterNames();
   });
  function setMapProperty(labelName)
   {
        map.setLayoutProperty(labelName, 'text-field',
                   ['case',
                   ['==', ['get', 'country_language_code'], ['upcase', language]],
                   ['get', 'name'],
                   ['==', ['get', 'name'], ['get','name_' + language]], // if names are same, show only one
                   ['get', 'name'],
                   ['==', ['get','name_' + language], null], //
                   ['case',
                       ['!=', ['get','name_trans'], null],
                       ['format',
                           ['get','name_trans'],
                           { 'font-scale': 1.0 },
                           '\n',
                           ['get', 'name'],
                           { 'font-scale': 0.8, 'text-font': ['literal', ['Noto Sans Italic']] }
                       ],
                       ['get', 'name']
                   ],
                   ['!=', ['get','name_' + language], null],
                   ['format',
                           ['get','name_' + language],
                           { 'font-scale': 1.0 },
                           '\n',
                           ['get', 'name'],
                           { 'font-scale': 0.8, 'text-font': ['literal', ['Noto Sans Italic']] }
                   ],
                   ['get', 'name']]);  // fallback
   }

   function alterNames()
   {
       // Use setLayoutProperty to set the value of a layout property in a style layer.
       // The three arguments are the id of the layer, the name of the layout property,
       // and the new property value.
       if(language == "nat")
       {
           map.setLayoutProperty('LBL_Country_Big',    'text-field', ['get', 'name']);
           map.setLayoutProperty('LBL_Country_Medium', 'text-field', ['get', 'name']);
           map.setLayoutProperty('LBL_Country_Small',  'text-field', ['get', 'name']);
           map.setLayoutProperty('LBL_State',  'text-field', ['get', 'name']);
           map.setLayoutProperty('LBL_CityMajorCapital',   'text-field', ['get', 'name']);
           map.setLayoutProperty('LBL_CityMinorCapital',   'text-field', ['get', 'name']);
           map.setLayoutProperty('LBL_CityMajorVeryLarge', 'text-field', ['get', 'name']);
           map.setLayoutProperty('LBL_CityMinorVeryLarge', 'text-field', ['get', 'name']);
           map.setLayoutProperty('LBL_CityMajorLarge',     'text-field', ['get', 'name']);
           map.setLayoutProperty('LBL_CityMinorLarge',     'text-field', ['get', 'name']);
           map.setLayoutProperty('LBL_CityMajorMedium',    'text-field', ['get', 'name']);
           map.setLayoutProperty('LBL_CityMinorMedium',    'text-field', ['get', 'name']);
           map.setLayoutProperty('LBL_CityMajorSmall',     'text-field', ['get', 'name']);
           map.setLayoutProperty('LBL_CityMinorSmall',     'text-field', ['get', 'name']);
           map.setLayoutProperty('LBL_CityMajorVillage',   'text-field', ['get', 'name']);
           map.setLayoutProperty('LBL_CityMinorVillage',   'text-field', ['get', 'name']);
           map.setLayoutProperty('LBL_Hamlet',             'text-field', ['get', 'name']);

           map.setLayoutProperty('TSP_RoadResidential_Label', 'text-field', ['get', 'street_name']);
           map.setLayoutProperty('TSP_RoadLocal_Label',       'text-field', ['get', 'street_name']);
           map.setLayoutProperty('TSP_RoadArterial_Label',    'text-field', ['get', 'street_name']);
           map.setLayoutProperty('TSP_RoadFederal_Label',     'text-field', ['get', 'street_name']);
           map.setLayoutProperty('TSP_RoadHighway_Label',     'text-field', ['get', 'street_name']);
           map.setLayoutProperty('TSP_RoadFerry_Label',       'text-field', ['get', 'ferry_name']);
       }
       else if(language == "trans")
       {
           map.setLayoutProperty('TSP_RoadResidential_Label', 'text-field', ['coalesce',['get','street_name_trans'],['get', 'street_name']]);
           map.setLayoutProperty('TSP_RoadLocal_Label',       'text-field', ['coalesce',['get','street_name_trans'],['get', 'street_name']]);
           map.setLayoutProperty('TSP_RoadArterial_Label',    'text-field', ['coalesce',['get','street_name_trans'],['get', 'street_name']]);
           map.setLayoutProperty('TSP_RoadFederal_Label',     'text-field', ['coalesce',['get','street_name_trans'],['get', 'street_name']]);
           map.setLayoutProperty('TSP_RoadHighway_Label',     'text-field', ['coalesce',['get','street_name_trans'],['get', 'street_name']]);
           map.setLayoutProperty('TSP_RoadFerry_Label',       'text-field', ['coalesce',['get','ferry_name_trans'],['get', 'ferry_name']]);
           map.setLayoutProperty('LBL_CityMajorCapital',   'text-field', ['coalesce',['get','name_trans'],['get', 'name']]);
           map.setLayoutProperty('LBL_CityMinorCapital',   'text-field', ['coalesce',['get','name_trans'],['get', 'name']]);
           map.setLayoutProperty('LBL_CityMajorVeryLarge', 'text-field', ['coalesce',['get','name_trans'],['get', 'name']]);
           map.setLayoutProperty('LBL_CityMinorVeryLarge', 'text-field', ['coalesce',['get','name_trans'],['get', 'name']]);
           map.setLayoutProperty('LBL_CityMajorLarge',     'text-field', ['coalesce',['get','name_trans'],['get', 'name']]);
           map.setLayoutProperty('LBL_CityMinorLarge',     'text-field', ['coalesce',['get','name_trans'],['get', 'name']]);
           map.setLayoutProperty('LBL_CityMajorMedium',    'text-field', ['coalesce',['get','name_trans'],['get', 'name']]);
           map.setLayoutProperty('LBL_CityMinorMedium',    'text-field', ['coalesce',['get','name_trans'],['get', 'name']]);
           map.setLayoutProperty('LBL_CityMajorSmall',     'text-field', ['coalesce',['get','name_trans'],['get', 'name']]);
           map.setLayoutProperty('LBL_CityMinorSmall',     'text-field', ['coalesce',['get','name_trans'],['get', 'name']]);
           map.setLayoutProperty('LBL_CityMajorVillage',   'text-field', ['coalesce',['get','name_trans'],['get', 'name']]);
           map.setLayoutProperty('LBL_CityMinorVillage',   'text-field', ['coalesce',['get','name_trans'],['get', 'name']]);
           map.setLayoutProperty('LBL_Hamlet',             'text-field', ['coalesce',['get','name_trans'],['get', 'name']]);

           map.setLayoutProperty('LBL_Country_Big',    'text-field', ['coalesce',['get','name_trans'],['get', 'name']]);
           map.setLayoutProperty('LBL_Country_Medium', 'text-field', ['coalesce',['get','name_trans'],['get', 'name']]);
           map.setLayoutProperty('LBL_Country_Small',  'text-field', ['coalesce',['get','name_trans'],['get', 'name']]);
           map.setLayoutProperty('LBL_State',  'text-field', ['coalesce',['get','name_trans'],['get', 'name']]);
       }
       else
       {
           if(showMultiNames)
           {
               setMapProperty('LBL_CityMajorCapital');
               setMapProperty('LBL_CityMinorCapital');
               setMapProperty('LBL_CityMajorVeryLarge');
               setMapProperty('LBL_CityMinorVeryLarge');
               setMapProperty('LBL_CityMajorLarge');
               setMapProperty('LBL_CityMinorLarge');
               setMapProperty('LBL_CityMajorMedium');
               setMapProperty('LBL_CityMinorMedium');
               setMapProperty('LBL_CityMajorSmall');
               setMapProperty('LBL_CityMinorSmall');
               setMapProperty('LBL_CityMajorVillage');
               setMapProperty('LBL_CityMinorVillage');
               setMapProperty('LBL_Hamlet');
           }
           else
           {
               map.setLayoutProperty('LBL_CityMajorCapital',   'text-field', ['coalesce',['get','name_' + language],['get', 'name_trans'],['get', 'name']]);
               map.setLayoutProperty('LBL_CityMinorCapital',   'text-field', ['coalesce',['get','name_' + language],['get', 'name_trans'],['get', 'name']]);
               map.setLayoutProperty('LBL_CityMajorVeryLarge', 'text-field', ['coalesce',['get','name_' + language],['get', 'name_trans'],['get', 'name']]);
               map.setLayoutProperty('LBL_CityMinorVeryLarge', 'text-field', ['coalesce',['get','name_' + language],['get', 'name_trans'],['get', 'name']]);
               map.setLayoutProperty('LBL_CityMajorLarge',     'text-field', ['coalesce',['get','name_' + language],['get', 'name_trans'],['get', 'name']]);
               map.setLayoutProperty('LBL_CityMinorLarge',     'text-field', ['coalesce',['get','name_' + language],['get', 'name_trans'],['get', 'name']]);
               map.setLayoutProperty('LBL_CityMajorMedium',    'text-field', ['coalesce',['get','name_' + language],['get', 'name_trans'],['get', 'name']]);
               map.setLayoutProperty('LBL_CityMinorMedium',    'text-field', ['coalesce',['get','name_' + language],['get', 'name_trans'],['get', 'name']]);
               map.setLayoutProperty('LBL_CityMajorSmall',     'text-field', ['coalesce',['get','name_' + language],['get', 'name_trans'],['get', 'name']]);
               map.setLayoutProperty('LBL_CityMinorSmall',     'text-field', ['coalesce',['get','name_' + language],['get', 'name_trans'],['get', 'name']]);
               map.setLayoutProperty('LBL_CityMajorVillage',   'text-field', ['coalesce',['get','name_' + language],['get', 'name_trans'],['get', 'name']]);
               map.setLayoutProperty('LBL_CityMinorVillage',   'text-field', ['coalesce',['get','name_' + language],['get', 'name_trans'],['get', 'name']]);
               map.setLayoutProperty('LBL_Hamlet',             'text-field', ['coalesce',['get','name_' + language],['get', 'name_trans'],['get', 'name']]);

           }
           map.setLayoutProperty('TSP_RoadResidential_Label', 'text-field', ['coalesce',['get','street_name_' + language],['get', 'street_name_trans'],['get', 'street_name']]);
           map.setLayoutProperty('TSP_RoadLocal_Label',       'text-field', ['coalesce',['get','street_name_' + language],['get', 'street_name_trans'],['get', 'street_name']]);
           map.setLayoutProperty('TSP_RoadArterial_Label',    'text-field', ['coalesce',['get','street_name_' + language],['get', 'street_name_trans'],['get', 'street_name']]);
           map.setLayoutProperty('TSP_RoadFederal_Label',     'text-field', ['coalesce',['get','street_name_' + language],['get', 'street_name_trans'],['get', 'street_name']]);
           map.setLayoutProperty('TSP_RoadHighway_Label',     'text-field', ['coalesce',['get','street_name_' + language],['get', 'street_name_trans'],['get', 'street_name']]);
           map.setLayoutProperty('TSP_RoadFerry_Label',       'text-field', ['coalesce',['get','ferry_name_'  + language],['get', 'ferry_name_trans' ],['get', 'ferry_name' ]]);
           map.setLayoutProperty('LBL_Country_Big',    'text-field', ['coalesce',['get','name_' + language],['get','name_trans'],['get', 'name']]);
           map.setLayoutProperty('LBL_Country_Medium', 'text-field', ['coalesce',['get','name_' + language],['get','name_trans'],['get', 'name']]);
           map.setLayoutProperty('LBL_Country_Small',  'text-field', ['coalesce',['get','name_' + language],['get','name_trans'],['get', 'name']]);
           map.setLayoutProperty('LBL_State',  'text-field', ['coalesce',['get','name_' + language],['get','name_trans'],['get', 'name']]);
       }
   }
   map.addControl(new maplibregl.GeolocateControl({
       positionOptions: {
       enableHighAccuracy: true
       },
       trackUserLocation: true
       })
   );
</script>
</body>
</html>